We are thrilled to share that our collaboration with ACG World on the development of a zero liquid discharge plant in Dahanu, India, has been recognized by the prestigious Brave Blue World Foundation. At BlueTech Forum 2023, we were honored to receive the esteemed Lighthouse Award, recognizing the role our technology played in helping ACG reduce its water footprint.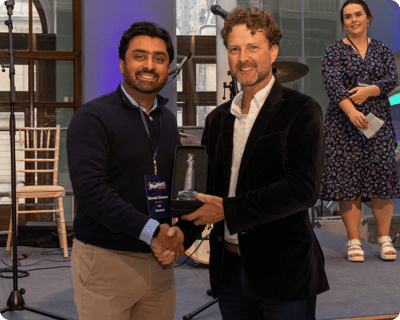 The project uses innovative wastewater treatment, high recovery reverse osmosis, and advanced membrane distillation technology to treat challenging pharmaceutical wastewater at a minimal energy footprint, and recovers over 95% of starting water for reuse. The project is recognized for its ability to reduce the plant's water footprint in an extremely water-stressed region.
Click here to read more about how ACG is setting the bar for sustainable water stewardship in the pharmaceutical industry.
We extend our heartfelt congratulations to ACG and all the other winners of the Lighthouse Award. Their remarkable contributions to the water sector and commitment to sustainable practices are truly commendable!
About the Lighthouse Awards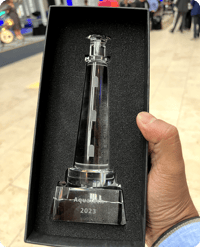 In 2020, the Brave Blue World Foundation launched the Lighthouse Awards to honor pioneers and visionaries within the water sector. Corporates and Utilities who are reducing their impact in water-stressed regions, including circularity in their practice and groups that have established moonshot targets associated with achievement timelines.
Brave Blue World Foundation is a not-for-profit initiative focused on providing a platform for scientific educational storytelling and public engagement. The foundation was created with a view to inspire a shift in thinking and solving water challenges globally. Brave Blue World Foundation has partnered with many leading experts and technology companies within the water industry to produce the Brave Blue World documentary.