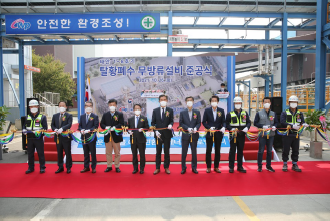 In October 2021, Korea Western Power completed a facility that recycles 100% of desulfurized wastewater for the first time for a domestic power generation company in Korea. Western Power held a ceremony for the completion of the 'Taean Desulfurized Wastewater Free Discharge Facility' at Taean Power Headquarters with the participation of Western Power, Geumgang Basin Environment Agency, Chungcheongnam-do, Taean-gun, and Aquatech, as well as other involved construction companies. The zero-liquid discharge desulfurization wastewater facility is a facility that evaporates wastewater by applying the evaporation and concentration method with 41.9 billion tons of water. Construction began in January 2018 and was completed in April, 40 months later.
The evaporative concentration method Aquatech provided is a technology that uses the high-temperature steam used in power plants to treat high-concentration toxic wastewater to the level of distilled water. Korea Western Power introduced advanced technology from the United States for the first time in power generation history and applied it to the Taean Power Headquarters. Unlike the existing solutions, this method was evaluated as an environmentally friendly technology because it does not discharge wastewater into the natural ecosystem. When desulfurized wastewater is exposed to high-temperature steam, some impurities settle, leaving only clean distilled water. The concentrated impurities are solidified and treated as waste, and the remaining distilled water is recycled as water for power generation.
As 100% of the remaining distilled water is recycled as water for power generation, it has the effect of saving 290,000 tons of water resources per year. Another advantage is that it is not necessary to discharge the treated water to the sea area, thus minimizing the impact on the marine ecosystem. Park Hyung-deok, president of Korea Western Power, said, "We plan to expand the desulfurization wastewater non-discharge facility applying the evaporation and concentration method not only to the Taean Power Headquarters but also to all business sites."
Click HERE to learn more about Aquatech's ZLD Solutions.