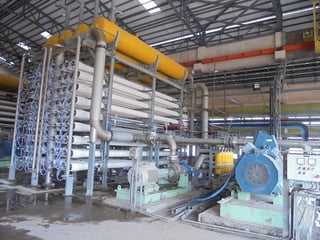 Aquatech's LoWatt technology was featured in Treatment Plant Operator's November issue, under the product focus section. You can read the excerpt from the article below:
"LoWatt Membrane Desalination technology from Aquatech International is an energy-efficient seawater reverse osmosis system designed for high reliability and optimal energy consumption. It couples robust pretreatment with an optimized reverse osmosis design and a cleaning mechanism to deliver desalinated freshwater. It addresses the challenge of biofouling that results from the presence of complex organics and bacteria in seawater by integrating ultrafiltration membrane pretreatment and a nutrient removal step to continuously deactivate bacteria. This reduces the need to use chemicals to mitigate biofouling. It also uses a chemical-free inline cleaning and flushing process that minimizes cleaning cycles and increases plant uptime."
To read more, click
here
.
For more information on Aquatech's Lowatt technology, visit our
website
.