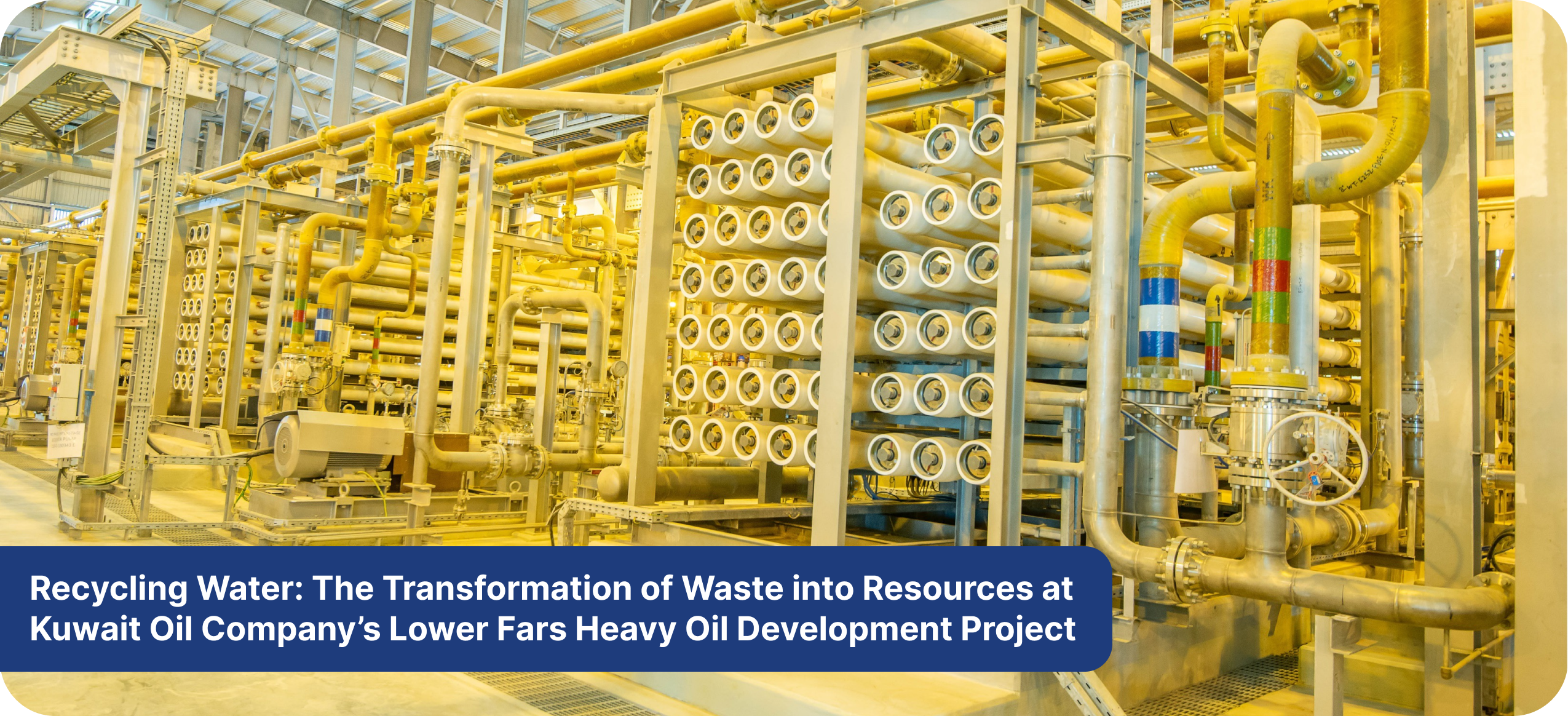 Recovering valuable materials from industrial wastewater can help offset investments in circular water projects and even provide solutions to other challenges, such as reliance on fossil fuel-based energy. Industrial users can also extract value from waste by sourcing unconventional water from other sources for use in direct operations. This approach saves freshwater resources for potable use and can be economical for industrial users.
This case study details how Aquatech collaborated with Kuwait Oil Company (KOC) to recover wastewater and treat it at scale to produce high-purity water and steam for heavy oil production at the Lower Fars Heavy Oil Development Project, Phase One.

Background
In recent years, KOC has intensified its effort to extract heavy oil from the Lower Fars reservoir of the Ratqa oil field in the northern part of Kuwait. Owned and operated by KOC, the Ratqa oil field is the first heavy oil project in the country.
The heavy oil found at Ratqa has a high viscosity and sluggish flow rate, causing KOC to require the use of cyclic steam injection to extract the oil. This process uses approximately 300,000 barrels of water daily, which must meet specific quality standards.
Challenge
With Lower Fars being among the most water-scarce regions in Kuwait, relying primarily on desalinated brackish water for industrial use, KOC would need to source the boiler feedwater from local municipalities at a premium cost. KOC sought an alternative solution to recycle and reuse all available water onsite to lower its operating costs and maintain sustainable business practices in the arid region.
KOC wanted to determine the possibility of reusing reverse osmosis (RO) reject from the Sulaibiya municipal wastewater treatment and reclamation plant (WWT&RP) located 123 kilometers (or approximately 75 miles) away for clean boiler feedwater. The solution needed to be feasible in capital and operating expenditure while enabling KOC to consistently achieve its "best out of waste" sustainability goal.
Solution
WorleyParsons, the owner's engineer, and Petrofac, the project EPC, collaborated with Aquatech to devise a process to treat the unique wastewater, which traveled from the Sulaibiya municipal WWT&RP. Due to extensive experience with recycling difficult-to-treat water, Aquatech could offer a solution that provided boiler feedwater exceeding KOC's needs and low capital expenditure and operating costs.
The source water is challenging wastewater from Sulaibiya that contains a high scaling potential, organic contaminants, and high levels of total dissolved solids (TDS), total organic carbon (TOC), organics, and hardness. Aquatech implemented a highly water-efficient project to recover ultrafiltration (UF) and RO reject and produce high-quality boiler feedwater, which was needed in high volumes. The UF and RO reject from the Sulaibiya municipal WWT&RP is treated with an array of technologies such as lime softening, multi-media filtration, UF, ion exchange, high recovery RO, UV, and ozone.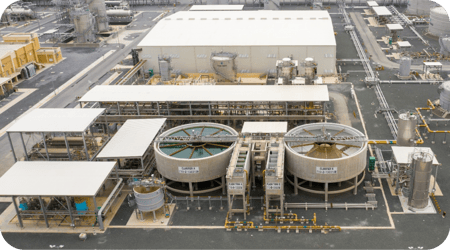 Treating the water through ultrafiltration membranes removes any residual suspended solids, colloidal matter and high molecular weight organics in the feed water, achieving the low and consistent silt density index (SDI) required for RO operation. QUA's Q-SEP ultrafiltration membranes provide superior quality and performance at a lower footprint and capital expenditure.
The subsequent high recovery RO consistently achieves 94% recovery, and the product water is subsequently treated by UV and ozone to remove any residual chemical oxygen demand (COD) and impurities. The final step of the scheme is Vacuum Degasification which is required to achieve the Oxygen limit of <100 ppb in the final product water. This project utilizes Once Through Steam Generator (OTSG) boilers to produce the steam required for injection into the heavy oil wells. The solution produces 3,750 GPM (5.4 MGD) of boiler feed water, which is required for steam production for operations at Lower Fars.
This water treatment plant has proven that achieving high recovery (~94%) even in an extremely challenging application is not a pipe dream, but a reality and that high recovery reverse osmosis is a viable, sustainable and affordable technology that enables municipal wastewater to recycle and reuse to produce boiler feed water.

Customer Benefits
This successful commissioning of the 30 MLD wastewater recycle and reuse project for KOC's Lower Fars oilfield represents a benchmark in sustainable water management. It has demonstrated that with sound design, including the appropriate experience, membrane technology (UF/RO) can be used to further reclaim and recover every drop of water possible in a water-scarce region, thus preserving vital natural resources.

The existence of this project and approach of "recovering the wastewater from a wastewater treatment plant at scale" reduces the draw on desalinated potable water. The project offers a blueprint for achieving a lower carbon and water footprint, as well as for new projects in a region highly affected by water scarcity.

About Aquatech International
Aquatech International is a global leader in water technology and services for industrial and infrastructure markets. With a focus on solving water scarcity through desalination, water reuse, and zero liquid discharge (ZLD), Aquatech has executed over 2,000 projects across 60 countries. Leveraging the experience and know-how gained over 40 years handling some of the most difficult-to-treat waters, Aquatech helps the world's most recognized companies solve their complex water-related challenges, including water scarcity, carbon and water footprint reduction, and sustainable water operations.