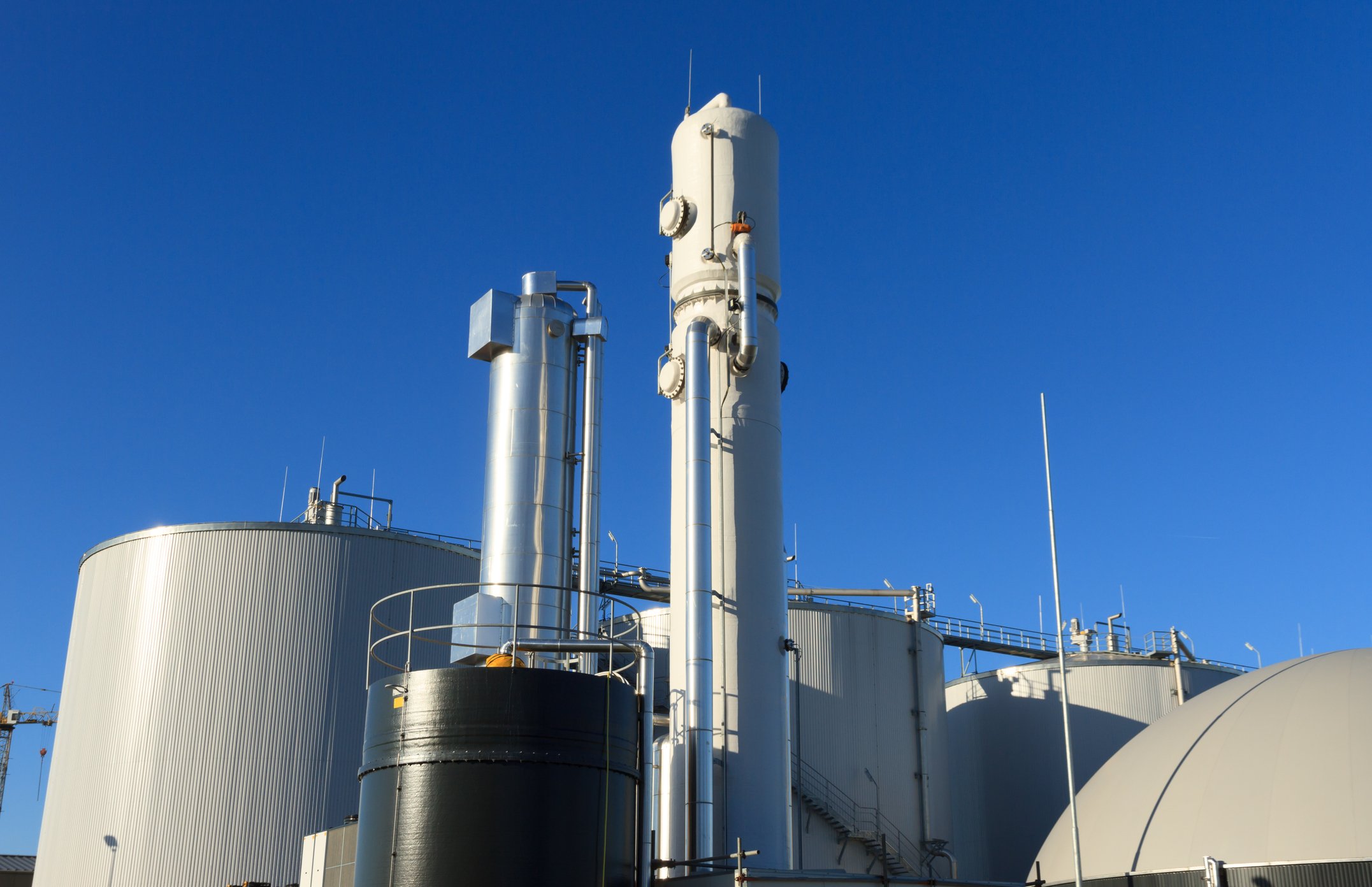 Today's industrial facilities are faced with unprecedented pressure for operational efficiency. While some of this pressure can be alleviated by integrating your processes with predictive AI-enabled software, industrial facilities have an uphill battle when it comes to maximizing resource utilization and recovery. Luckily, one of the most overlooked resources in every facility is often the most abundant: process wastewater. Further, certain industries like distilleries, packaged snacks, biofuels and pharmaceutical formulations contain wastewater with enough organic content that it can actually be converted to biogas (and clean water) as a power source for the facility!
This seemingly alchemic conversion can be completed via a process called Anaerobic Digestion (AD). Of course, the extent of biogas produced is heavily dependent on (1) the system used and (2) concentration of COD (Chemical Oxygen Demand) in the wastewater. Aquatech's BioMOD™ EGSB (Expanded Granular Sludge Bed) and AnMBR (Anaerobic Membrane Bioreactor) are two AD-based systems which can convert waste streams to biogas at a rate of up to 0.31 m3/kg of COD, along with a pure water stream fit for reuse. A guidance chart on the operating niches for these systems is illustrated below (boxed green portion), along with water post-treatment options based on your need.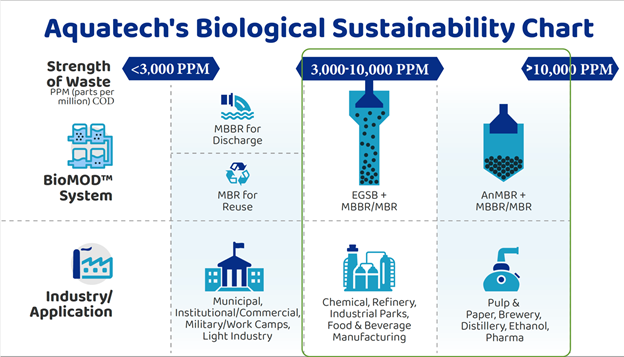 Another added bonus from these systems comes in the form of reduced solids. Typically, biological water treatment runs into the issue of biosolids management due to the nature of conventional aerobic/anoxic digestion, which can create a headache for facilities to manage due to hauling logistics and costs. Further, these biosolids contain methane and can contribute to Greenhouse Gas (GHG) Emissions when landfilled or incinerated. The alternative to treatment is even worse, since it will result in both municipal surcharges and indirect GHG emissions from raw process waste. AD differentiates itself as a technology which will "digest" organic content before it has a chance to pollute the environment, making it a model solution for the 2020's! Based on this advantage, Anaerobic Digestion is a potentially great way to pursue carbon credits and meet corporate ESG standards at your facility.
To learn more about Aquatech's anaerobic digestion products, you can visit our EGSB and AnMBR pages. To better understand how anaerobic digestion could fit into your facility, please contact Bill Barber (Eastern US Sales Manager, barberb@aquatech.com), Nilesh Satambekar (Western Sales Manager, satambekarn@aquatech.com) or your existing Aquatech sales contact.