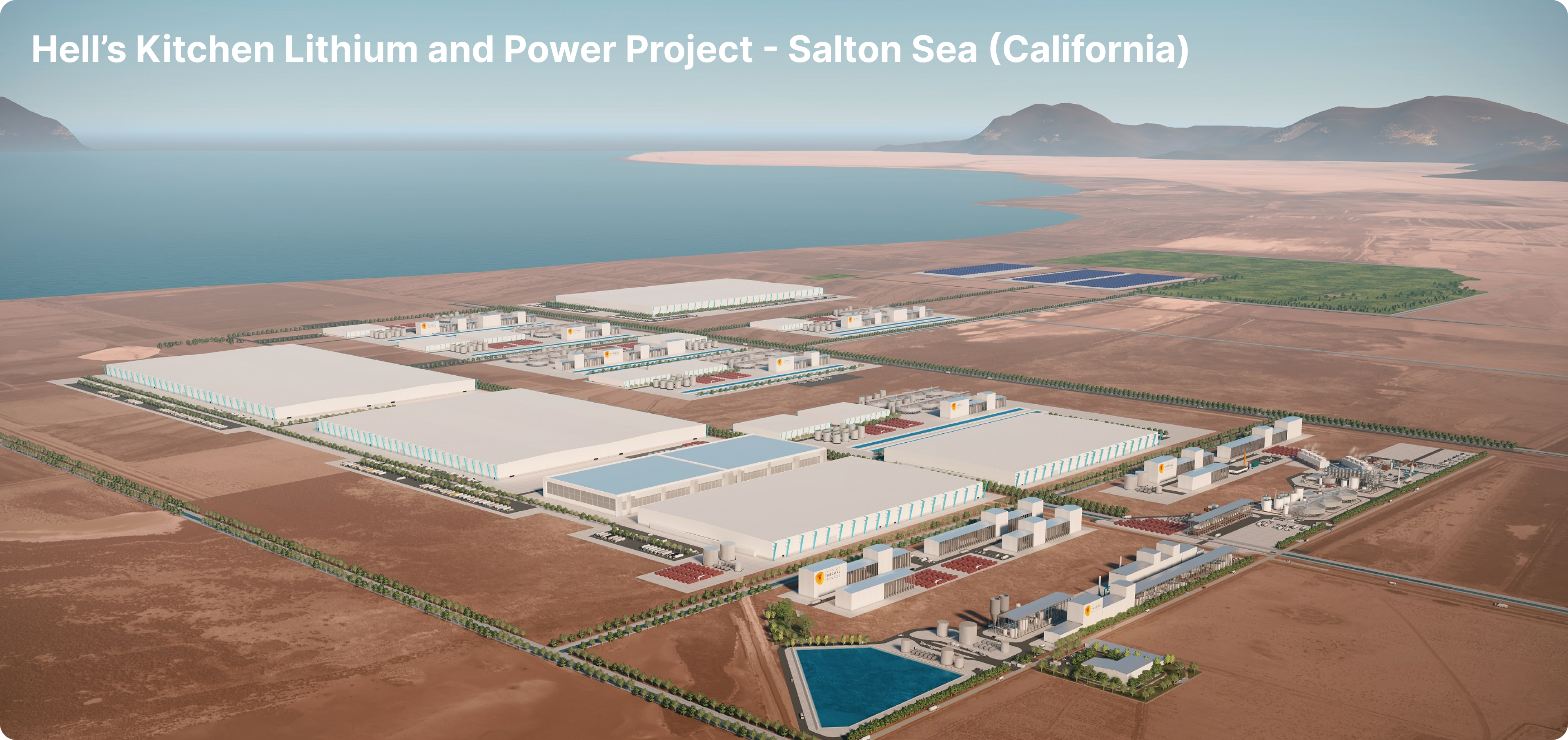 Controlled Thermal Resources selects Aquatech for its US$ 1 billion Lithium Hydroxide Facility in California
Controlled Thermal Resources has engaged Aquatech as its technology partner to deliver the purification process plants for the company's Stage 1 Lithium Hydroxide Facility.
Aquatech is a recognized global leader in end-to-end process solutions to produce technical and battery-grade lithium hydroxide, lithium carbonate, and lithium salts.
CTR's US$ 1 billion Lithium Hydroxide Facility will be the world's first fully integrated renewable power and lithium extraction facility - producing "green" battery-grade lithium hydroxide product from CTR's geothermal brine resource.
The facility is expected to produce 25,000 tonnes of battery-grade lithium hydroxide monohydrate each year to support battery production for approximately 415,000 standard-size electric vehicles annually.
Imperial County, California. June 16, 2023 – Controlled Thermal Resources Holdings Inc. (CTR) is pleased to announce it has engaged Aquatech as its technology partner to deliver the engineering and process plants for the conversion of lithium chloride intermediate product to battery-grade lithium hydroxide monohydrate at the company's Stage 1 Lithium Hydroxide Facility.
Aquatech will utilize a high-purity lithium chloride 'eluate' recovered via Direct Lithium Extraction (DLE) from CTR's geothermal lithium brine resource. The production plant will include multiple process plants that integrate advanced membrane, evaporation, and crystallization technology for the production of refined crystalline lithium hydroxide monohydrate product.
CTR's Hell's Kitchen project, located in Imperial County, California, is the largest and most sustainable lithium and power development in the world today, with a projected resource capacity to produce 1,100MW of baseload renewable power and an estimated 300,000 metric tons of lithium carbonate equivalent (LCE) products each year – enough to support the production of over 5 million standard-sized electric vehicles annually.
"We are very pleased to engage Aquatech for this exciting new project phase," CTR's Chief Executive Officer, Rod Colwell, said. "Aquatech is a global leader in their field with well-established process systems and technologies to produce lithium products that will meet our client's rigorous specifications for high energy density battery cathode manufacturing. These efforts will support our client's transition to electric mobility and greatly accelerate a secure and genuinely sustainable supply of lithium hydroxide in North America."
CTR and its technology partners recently completed a US$ 60 million brine optimization program that operated for six months from November 2022 until April 2023. The company's engineering team improved several process stages, including optimization of the brine preparation unit to recover a high-purity lithium chloride 'eluate' efficiently. The optimization plant, which operated at a steady state for approximately 3,000 hours, was constructed at a 1/10th commercial scale. The Direct Lithium Extraction (DLE) unit achieved a 95-97% lithium recovery rate. CTR will utilize Aquatech's innovative process technology for the final lithium conversion and purification process stage.
Aquatech is a premier process technology leader delivering comprehensive end-to-end solutions for battery-grade lithium production facilities. Aquatech's services encompass applied testing and development, all the way to project delivery, offered through their ICD Process Technologies division. With a steadfast commitment to long-term sustainability, Aquatech prioritizes achieving the lowest carbon and water footprint, resulting in minimal environmental impact.
"Aquatech is excited to have commenced work on this landmark project fully supporting CTR's vision of establishing the largest and most sustainable integrated lithium and renewable power facility," said Venkee Sharma, Executive Chairman at Aquatech. "By joining forces, we are not only advancing the goals of U.S. energy security and the clean energy transition but also revolutionizing the industry through CTR's groundbreaking geothermal energy utilization at the Salton Sea. This collaboration will pave the way for sustainable critical mineral recovery, battery manufacturing, and recycling."
The Hell's Kitchen Lithium and Power project is a positive industry disrupter. It uses a closed-loop, direct lithium extraction process to recover lithium sustainably from geothermal brine. This method also integrates renewable power and steam into the process to produce battery-grade lithium products with a near-zero carbon footprint. The process requires no open pit mining, evaporation ponds, process tailings, clay leaching pits, or hazardous landfill waste.
CTR intends to commence construction of its Stage 1 Lithium Hydroxide Facility in 2024, with the first lithium hydroxide products due for delivery in 2025.
The construction effort will create approximately 480 construction jobs, and the facilities will employ upwards of 100 full-time employees, including production technicians, operations managers, and engineering roles to support ongoing plant maintenance and optimization.

ABOUT Controlled Thermal Resources
U.S. company, Controlled Thermal Resources Holdings Inc. (CTR), through its project companies, specializes in lithium and renewable energy production with projects in advanced development in California. CTR's leadership team and key consultants have successfully financed, developed, and managed geothermal operations in the Salton Sea region for 30 years. CTR is committed to delivering sustainable, low-cost lithium products and renewable power to support clean energy initiatives and to ensure a secure and sustainable lithium product supply chain. Additional information is available at: www.cthermal.com
ABOUT AQUATECH
Aquatech is a recognized global leader in end-to-end process solutions to produce technical and battery grades of lithium carbonate, lithium hydroxide, and lithium salts. Leveraging its experience and know-how, Aquatech offers holistic solutions to produce critical mineral-based chemicals and salts for EV batteries and from battery recycling, providing applied development and testing with demonstration-scale process units to engineering and design, project management, and execution through post-installation operations and maintenance. Aquatech has delivered over 2,000 facilities across 60 countries and helps the world's most recognized companies reduce their water, carbon, and environmental footprint, helping them achieve and sustain their sustainability goals. Learn more at www.aquatech.com/lithium