QUA's
EnviQ
Technology was featured in
Treatment Plant Operator's
November Issue under the product focus section. You can read the excerpt from the article below: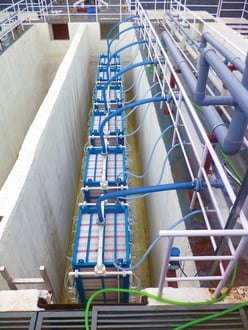 "
EnviQ
flat sheet submerged ultrafiltration mem
branes from QUA are engineered to improve the ease
and efficiency of operation and maintenance of MBR
facilities while offering a smaller water footprint and a
higher-quality effluent. They offer ultrafiltration qual
ity product water using a stronger flat sheet membrane.
They consist of reverse diffusion and air diffusers, which
maximize scrubbing efficiency, lower pressure,
and reduce cleaning. The membranes have bil
lions of microscopic pores on the surface that form
a barrier to impurities. They provide consistent and high-quality efflu
ent using an advanced PVDF-reinforced membrane and diffuser system.
Its air diffuser design maintains a continuous flow of consistently size
d
air bubbles. This prevents solids from settling at the bottom of the tank
or sticking to the membrane surface, thus eliminating septi
c conditions."
To read more, click
here
.
For more information on QUA's EnviQ Technology, visit our
website
.