As climate change progresses, industrial operations will be increasingly challenged by water scarcity and quality concerns. At the same time, industrial users are facing tightening regulations around water use and wastewater management. To combat these challenges, the adoption of water circularity can help alleviate some of the pressures weighing on the industry.
At the 2022 Global Water Summit, Global Water Intelligence hosted a live panel session entitled "Circular Water." The panel was hosted by Aquatech International and featured industrial water stewardship professionals from leading multinational companies in the oil & gas, microelectronics and consumer products sectors.
As a result of that session, Aquatech patterned with GWI to publish a whitepaper on 'Raising the Appeal of Industrial Water Circularity: Key Considerations to Drive Sustainable Operations.' This whitepaper looks at water circulatory as a key practice for industrial water users to ensure business continuity and minimize environmental impact.
Visit the GWI white paper hub to access your copy of 'Raising the Appeal of Industrial Water Circularity: Key Considerations to Drive Sustainable Operations.'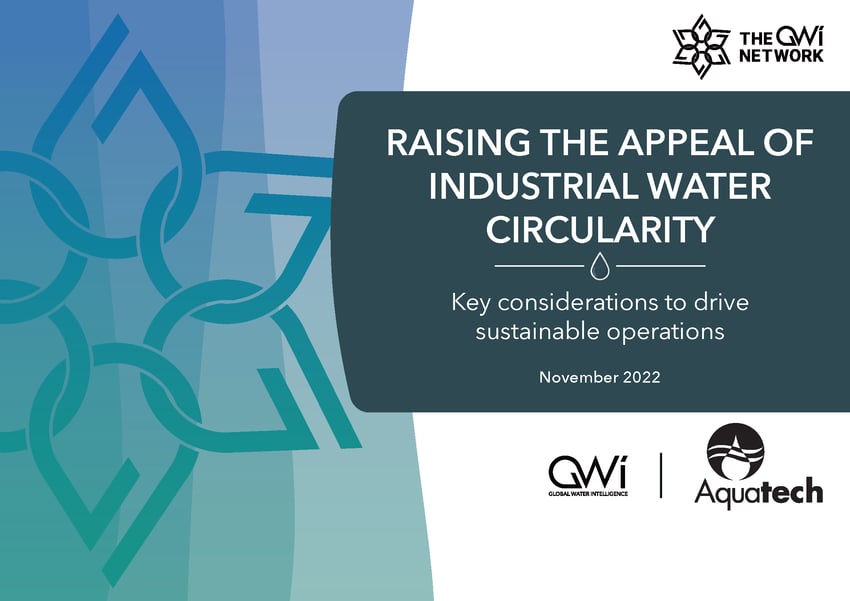 Key learnings or takeaways readers can expect to gather from the whitepaper:
The significance of water circularity for industry - how industrial users can raise their use efficiency on direct operations by adopting onsite reuse and recycling.
The costs and benefits of adopting water circulatory practices

– weighing factors like regulations, product quality and consumer safety, business continuity, treatment system complexity, wastewater treatment byproducts, the business case, and environmental stewardship priorities.

Water circulatory in action

– key examples from leading companies like

L'Oréal

,

Procter & Gamble

,

Micron Technology

,

Petroleum Development Oman

, and

Kuwait Oil Company

.

How to make water circularity more feasible

– how to improve the appeal and feasibility of water circularity from reassessment of water quality standards, industry collaboration and information sharing to recognizing the true cost of water.

The key technology needed

– the need for innovations aimed at enhancing water recovery, optimizing energy requirements and boosting system reliability, as well as extracting further value from industrial water.
Don't miss the opportunity to understand the significance of water circularity for industry and how it can alleviate some of the environmental impact, water stress, and regulatory pressures on industrial water users.